Trusted West Wales Pest control in Carmarthen, Pembrokeshire and Ceredigion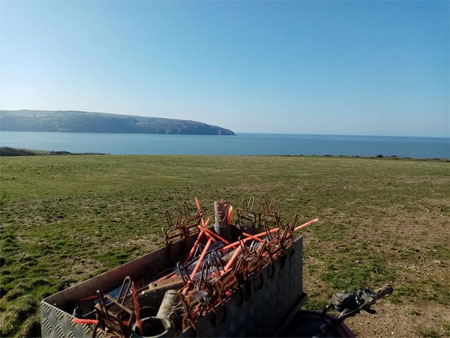 West Wales Pest Control Services have years of experience in the prevention, detection, control & removal of many domestic and commercial pests such as wasps, rats, moles in Llandysul, Cardigan, Carmarthen, Newcastle Emlyn, Crymych, Lampeter, Cynwyl Elfed etc in Carmarthenshire and Ceredigion areas of Wales.
Carmarthen's most trusted Pest Control Company
We can help create the safe, pest-free environment that all owners of Farms, homes, businesses, parks and sports fields expect.
Long or short term contracts or one-off pest removal treatments
West Wales Pest Services are Fully insured for all work carried out.
If you suspect you are experiencing unwanted pests in your home or business and need quick and effective control, call us immediately. We deal with a wide variety of pests that invade where they are not welcome:
Moles – Mole control Traditional trapping methods used
Rats – Rat Detection and Control Trapping rodenticides or a 'rat pack'.
Squirrels - Control of Squirrels Trapping or Shooting
Wasps– detection and control Treatments and nest control
Fox - Control Trapping or Shooting
Rabbits - Traditional methods including trapping, Ferreting, Shooting etc
Crows/Magpies – Cage trapping
Pigeon - Control Bird Proofing
Home, Farm & Business Pest Control Services in Pembrokeshire, Carmarthenshire & Cardiganshire
Pest Control Pembrokeshire – Pest Control Cardiganshire – Pest Control Carmarthenshire – Pest Control Ceredigion
Many of these pests can be harmful or even deadly to people since many of them carry disease into homes. They leave behind droppings which contaminate food and surfaces and they can chew through electrical wiring which raises the chance of a fire breaking out.