Rat Control West Wales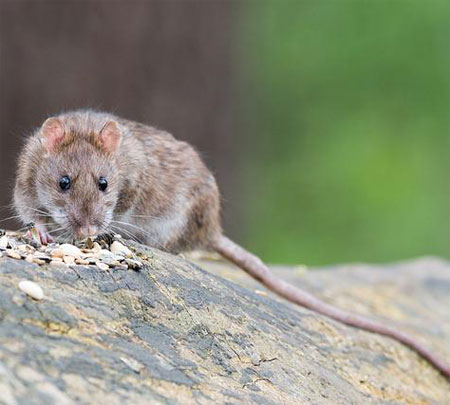 There are two kinds of rats found in the UK, the most common being the Brown Rat (also known as the Common Rat or the Norway Rat). The Brown Rat is normally a dull brown in colour, around 32cm to 43cm long from nose to tail, with small ears, a blunt nose and rather sharp teeth. The other is the Black Rat (also known as the Ship Rat), but this is usually only found around ports and airports and is quite unusual. Common signs of a rat infestation (aside from seeing the rat itself) are droppings or smear marks from the rats, usually along skirting boards, holes, nesting sites or rat runs. You may also see gnawing damage either to food containers, cables or the building itself, usually woodwork (skirting boards, wooden doors, etc). Or you may notice a nasty or unusual smell or hear scuttling in your ceiling or beneath floorboards.
Risk of disease
Rats are the source of numerous diseases transmitted to humans and domestic animals, either first hand or via their parasites (fleas from rats caused the spread of the bubonic plague). Rat bites can cause secondary infections which may be fatal and some diseases are spread via their urine.
Damage to your property
They can also cause extensive damage to your home and its contents (including food) either by eating it, chewing it or urinating on it. They will even gnaw through wood or masonry to gain access to a property, especially if there's a food source inside. As if that's not enough, they can cause fires by chewing through electrical cables. If you suspect you have a rat infestation you really should take action quickly. Rats can breed at an alarming rate - females mature at just 10-12 weeks and average six litters a year, with around eight young in each litter.
Our Rat Control Service:
We continue to offer a professional 24 hour Rat Pest Control Service for both Domestic and Commercial clients in Pembrokeshire, Ceredigion and Carmarthenshires. West Wales Pest Services Pest Control professional fully-trained technicians will use the right method of eradication for the level and location of infestation and ensure that no baits are left accessible to children and/or pet animals. Not only will they deal with removal of the rats, but we will also advise on proofing and preventative measures to avoid re-infestation, carrying these out where possible.